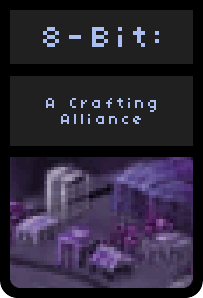 Welcome to

8-Bit

, held by Ami, Biomecha, Celene, Cloudy, Gargy, Jordyn, Lucid and Nessy. The purpose of this thread is for us to have a common place to meet and keep track of our crafting progresses as well as help each other out. On the side, if anyone wants us to make an item for them, we can do that but understand this is our log book of sorts not an official shop. All are welcome to come join us in company.

Graphics courtesy of: Biomecha.
Last edited by
Celestine Amine
on Wed Nov 23, 2011 2:19 pm, edited 13 times in total.